ATV Bike Tour Abu Dhabi Desert Adventure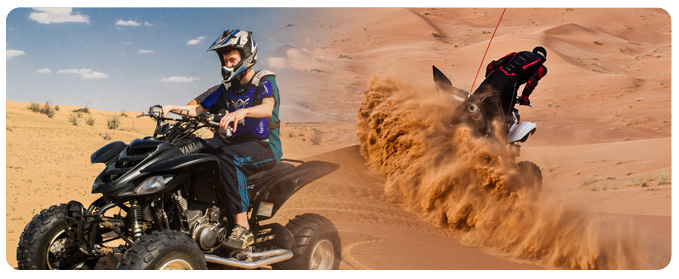 Take an outdoor adventure on one of UAE's best Offroad-ATV tour. Quad Bike Tour and Rental one and two-hour ATV rides take guests through deserts of Abu Dhabi and remote areas.
If you're looking for a new way to explore the natural wonderlands of UAE,  Quad Bike ATV Adventure Safari Tours and Rental offers a different and unique All Terrain Vehicle tour.
Looking for something to do for a corporate function, family outing, birthday party, or simply a friendly get-together? Why not come enjoy the great outdoors of Abu Dhabi Deserts with a  adventure ride, riding the ATV on Sand Dunes, Sand Stones, Washes and Gullies, with lots of twists, turns, and hills to keep you on your toes. The wide open spaces, sand dunes and awesome desert scenery make this the trip to take to experience that wide open, let it all out Off Road Feeling.
All our tours include the following:
All Terrain Vehicles safety and operation orientation.
We provide helmets, goggles, gloves and weather gear.
Our experienced tour guides give you plenty of photo opportunities
Your ATV trip can also be enjoyed as a passenger on one of our two up ATV's. Passengers are generally persons under 16, a person with a disability or someone who just wants to relax and enjoy the ride.
For More info or Bookings Contact
Contact us